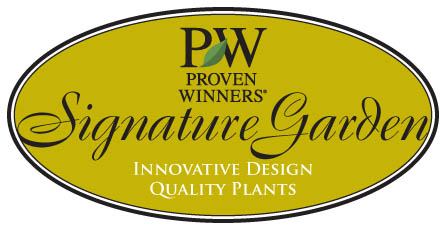 Proven Winners® Signature Garden® – High-Profile Showcase Gardens
The Proven Winners Signature Garden designation is a prestigious certification representing a partnership between Proven Winners and elite, exclusive, high profile properties across the country.
The goal of this partnership is to develop a mutually beneficial collaboration involving the property's staff horticulturists (or the landscape maintenance professional), the landscape architect or designer, and local nurseries or growers supplying Proven Winners plants, all working together to develop a landscape and garden presentation featuring Proven Winners prominently on the property.
In addition to providing a stunning showcase of Proven Winners plants, a Proven Winners Signature Garden promotes the location for visitors and guests, garden clubs, trade groups, and landscape professionals – providing a showcase display garden for all involved. Most Proven Winners Signature Garden locations schedule formal garden tours, distribute brochures detailing the plants throughout the gardens, and conduct garden show events. Properties must demonstrate a strict set of criteria to be considered for this designation, including high visibility, demographic synergies, marketing recognition, and a commitment to a quality landscape presentation. Visitor traffic and revenues are enhanced by improved guest interest, garden tours, additional event opportunities, and visitor appreciation.
Upon application, The Proven Winners Signature Garden Selection Committee is responsible for the Proven Winners Signature Garden selection status and designation. Each site is to be designated with signage and certification, and is to be displayed proudly on site. Only properties with a commitment to a quality presentation will be considered. This designation is granted on a yearly basis with garden standards required for renewable status.
For more information, or to submit an application, please email Tom Ewing, Proven Winners Landscape Program Development: tewing@provenwinners.com
The Visitor Information Center, City of Castle Rock, WA
Pinehurst Resort & Country Club – Pinehurst, NC
Mission Point Resort – Mackinac Island, MI
The Greenbrier, America's Resort – White Sulphur Springs, WV
Meadow Brook Estate – Rochester, MI
Harrah's Cherokee Casino Resort – Cherokee, NC