Mark Thomaschefsky
Four Seasons Landscaping
30688 Fulfs Road
Sterling, Illinois 61081
(815) 626-7331‬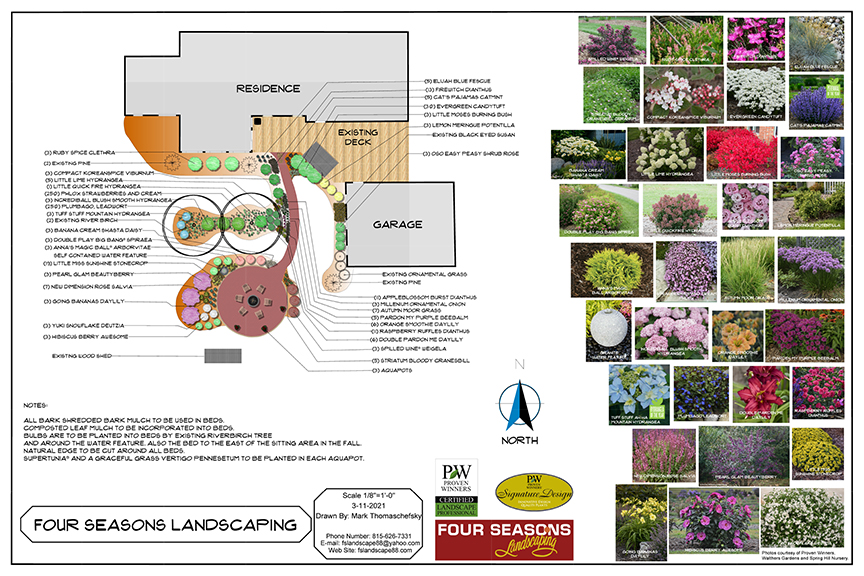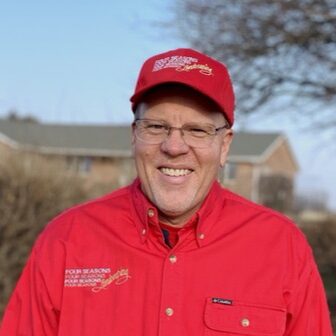 "The client started out with only a pathway and a seating area around their existing fire pit. Red Rotten Granite was the choice of stone used for the pathway and seating area. Stone was used for a multitude of reasons, one being its natural, non-structured appearance, and another being the sound the stone produces while one walks down the pathway. You see, so many times we are so concentrated on what the sights and smells are going to be in a garden that we forget to think about the sounds a garden can make.
I wanted to have a park-like feel to the garden. A loose Hydrangea mass beneath the existing River Birches as well as a carpet of two varieties of groundcover co-existing with the Hydrangeas will produce an interesting effect both from the house as well from the seating area. Next to the seating area is a bed that not only provides interest while enjoying the fire from the firepit, but also helps provide an attractive screen from the neighbors. A self-contained water feature will add visual interest as well as a natural calming sound that water makes to the garden as well. I wanted the view from the deck to be sort of skewed to the firepit to give the appearance of a screen from the house and deck.
I like the orange-mango ruffled flowers of the Orange Smoothie Daylily along the pathway. This unique color and texture of daylily will definitely make you take notice to them as you stroll along the pathway.
Pardon My Purple Bee Balm's fuchsia- purple colors will interact well with the orange-mango color of the Orange Smoothie Daylilies right next to them. Passersby are going to notice their ability to attract pollinators, making this a favorite plant in the garden.
The premier selection Hibiscus Berry Awesome with its lavender-pink flowers will add a pop of color to the garden later in the year, just in time for when a fire in the fire pit feels good on a late summer or early fall cool night".