Co-sponsored by Midwest Groundcovers, our last event of the 2022 season was attended by nearly 200 landscape professionals and held at 

the Q Center in St. Charles, Illinois.

Midwest Groundcovers' Nikki Melin opened the morning with an overview of Midwest Groundcovers, including their products & services. Proven Winners' Tom Ewing provided a brief overview of Proven Winners, the program planned for the day, and a summary of the 

Professional CEU Credits approved for attendees from ASLA, APLD, IGIA, and ISA

Four Star Greenhouse's John Antonelli kicked off the morning presentation entitles "Stunning New Annuals to Enhance Your Landscapes" that included introductions to the newest Proven Winners Annuals and the Proven Winners AquaPot program
Walter's Garden's Josh Roggenbuck then provided a presentation entitled "Amazing New Proven Winners Perennial Selections That Will Make Your Job Easier"
The morning concluded with "New Problem Solving Shrubs for there Landscape" presented by Jane Beggs-Joles with Spring Meadow Nusrery

C

atered box lunches were served and the lunch break concluded with Classic Caladium's Chad Harrison previewing "Exciting New Proven Winners Caladiums for the 

Landscape" and Greg Niewold, owner of Power Planter, presenting Proven Winners new Twist & Plant Augers
The first afternoon session was entitled :Climate Change and Insect Pests: How That is Affecting Pest Management Efforts and Practices" presented by Dr. Fredric Miller. Dr. Miller ia a professor of horticulture in the Department of Agriculture and Horticulture Sciences at Joliet Junior College, Joliet, Illinois, and a Senior Research Scientist – Entomology at The Morton Arboretum, Lisle, Illinois.
The day's program concluded with hands-on presentation and demonstration on "How to Identify and Manage Plant Diseases During Plant Selection and Installation." Dr. Stephanie Adams is the Plant Health Care Leader in the Collections Department at The Morton Arboretum. And with ISA Board Certification as a Master Arborist, a PhD in Forest Pathology, an MS in Plant Pathology, and a B.S. in Botany and Urban Forestry Stephanie shared valuable information for the professionals attending our event.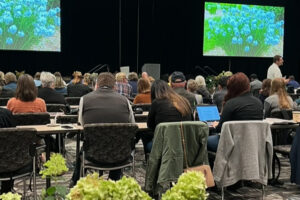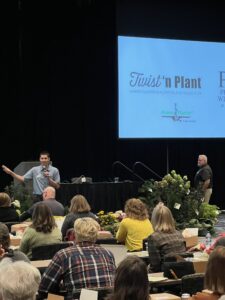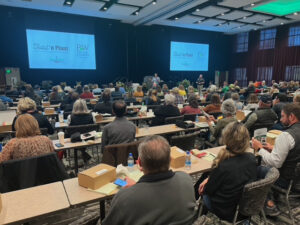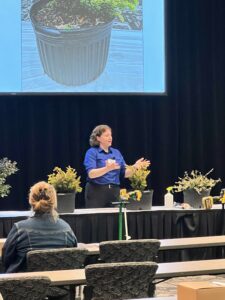 Event Schedule
Midwest Groundcover Landscape Roadshow Program 2022 (a) [PDF]
Invitation Flyer 11 02 2022 [JPEG]