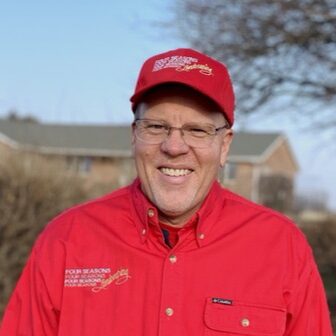 Proven Winners Certified Landscape Professional
Landscape Design
Landscape Maintenance
Landscape Installation
Showcase Container and Hanging Basket Design & Care
Perennial Expert

---
About Mark Thomaschefsky and Four Seasons Landscaping
Owner and President Mark Thomaschefsky is a graduate from Kishwaukee College with degrees in landscape design and golf course management. He has been a landscape contractor serving the Sauk Valley area since 1988, and serves on the Tree Board for the city of Sterling, Illinois.
Four Seasons Landscaping is a design/build firm based in Sterling. Mark is involved in the full process, from initial conceptual design to the final installation. With more than 30 years experience, Mark's involvement ensures that each project receives his utmost attention to detail and that his clients are completely satisfied with the quality of the work.
Mark thoroughly enjoys taking a client's landscape from overgrown and outdated to one that is modern, and one that both the client and Mark are proud of. It is also very satisfying to see a worn-out, weed-infested lawn be transformed into one that can be the envy of the neighborhood.
Mark believes in being stewards of the land. "We have only one earth and if we don't do our part to take care of it," he says, "future generations will not be able to enjoy the natural resources we have today."